COMMISSION STATUS
OPEN
METHOD OF PAYMENT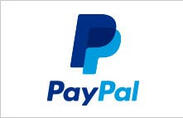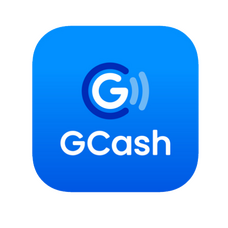 DM ME FOR DETAILS!
TERMS OF PAYMENT
For Vocal Mixing
50% downpayment upon submission of your raw files to me
Full payment/balance upon submission of final product
PRODUCT DELIVERY TIMEFRAME
I usually take 1-2 days for Solo Vocal Mixing3-7 days for Duet Vocal MixingA full week to 2 weeks for Trio/Chorus Vocal Mixing
This is if slots are all taken.
I CAN work faster at times :)!

BUT it all Depends on you! Please DM me on Twitter so we can talk about the deadlines!
EXPERIENCE
Been casually mixing since 2013. Making covers on youtube and Producing full albums on Spotify (now gone) and bandcamp!.
For instrumentals
I am currently comfortable producing Acoustic, Rock, Metal and lo-fi music!
PORTFOLIO/SAMPLES
FOR ARTIFICIAL HARMS
I suggest only ordering 1 track of artificial harms since if it goes beyond that,it starts to sound super artificial and robot-ish!!
(only order more if crucial to the song)

Real harmonies will always sound better than artificial ones so take note of that before you order!! if you are confident enough in your skills and can record your own harmonies then go right ahead!
ESSENTIAL GUIDELINES/TIPS
BEFORE YOU SEND YOUR FILES
Please send your files in the WAV format. (It can be in 44100 hz or 48000 hz if you worry about that!)
Make sure the vocals you send me don't overlap! if there's an overlapping part in the song render each into another track/WAV!
This is how people usually organize to send their .WAVs ! ↓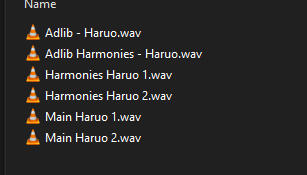 Send your files RAW. No added effects.
DO YOUR BEST when recording! Make sure you are on time and in tune with the song because it'll help make my job easier, faster and it'll help for a better outcome too!you don't need to be a perfectionist though...it is my job to make you sound better overall!
-Make sure you are singing at the same energy level as the song you are singing!

Make sure there is MINIMAL background noise or NONE at all!
Make sure you don't peak your mic when singing higher/louder notes.record in about 50%-75% volume and adjust your volume as you see fit.

I cannot fix "ear-rape" recordings sadly and it will affect the final outcome!
USE a pop filter/foam/sock on your mic or just don't stay too close to your mic (not too far either), face it in a way where it doesn't pick up plosives and breaths of air but can still pick you up clearly.
You can also choose to send me your project file where you recorded your vocals so I can render and separate the raw vocals myself!
(ex .aup/.sesx/.als etc..)

You DON'T have to do aone take for the whole song.
You can record each
phrase of the song separately and combine them when sending!

Lastly, take your time!
TO WHOM MY SERVICES ARE
TARGETED TOWARDS
~ People who want help with mixing their covers/instrumentals for youtube/facebook etc.

~ People who want the outcomes fast and cheaper but still quality!

~ Just people looking to do casual projects in general. Nothing too professional.